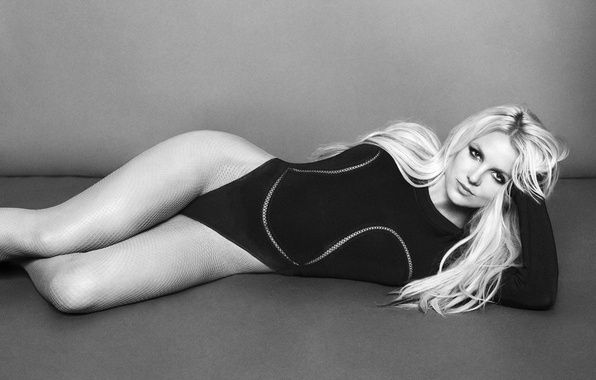 I need to tell MY version of the story of what should have been the greatest moment of my life. I have been waiting for 19 years to meet Britney, I spent the past 9 months working my ass off to get in shape, and this very moment turned out to be a real catastrophe and left me crying my eyes out ... of RAGE.
Those who know me know it. Britney Spears is everything for me. Whenever one of her songs is played on the radio, whenever an article is written about her, whenever her name is dropped in a conversation, my friends think of me, Tristan, the guy who keeps on supporting her, posting hundreds of Facebook and Twitter posts about her, playing her music whenever there's a party to cheer people up. In short, Britney is an integral part of my life, she's more than an idol to me, she's my everything. I'm not a stupid "fan" who cries as soon as I see her on stage, says AMEN to everything she does, I also know how to remain unbiased, and be realistic about her new music or sometimes poor career choices. But, in any way, I've always been fascinated by this woman, a global superstar with undeniable stage presence and charisma, beauty, with a "Girl Next Door" side, a little goofy, simple, and funny.
After attending the Circus Tour four times (London + Paris) in 2009 and the Femme Fatale Tour once in 2011 (Paris), Britney announced in 2018 a European tour after 7 years out of the continent! I had to go see her NO MATTER WHAT! I immediately bought tickets and asked for holidays to make a mini tour of Europe (very mini eh), first stop at the Smukfest in Denmark, then her concert in Antwerp, Belgium, because at first no show in France was announced. They FINALLY officially announced two shows in Paris, at the AccorHotels Arena, August 28th and 29th, 2018, so without even having a second thought, I bought a Meet & Greet pass, which allows to meet Britney before her concert and take a picture with her. Despite the huge demand, I managed to get my M & G for the first show in Paris.
On the 28th of August, 2018, I would finally fulfill my dream, meet my idol, who means everything to me. I'm going to meet Britney, she'll see me, I'll talk to her, maybe even touch her. I already knew you don't get a 10-minute one-on-one interview with her, more like a timed 1 minute per fan, each one in turn before the show. I prepare myself psychologically, and physically, to what will be the biggest meeting of my LIFE! I decided to lose weight to be beautiful on the picture, I sacrificed a lot of time and energy, and Britney was a constant source of inspiration to reach my goal, beacuse everybody knows that you betta work, bitch! After 9 months of sport and diet, the results showed: I lost 30 pounds, I've never felt so good both physically and psychologically, and I was ready to experience the greatest moment of my life.
August 28th, 2018. The D day! The day before, my BFF came from the South of France to see both Britney Spears' shows with me. We have that passion in common, we met thanks to her and we talk ALL THE TIME ABOUT HER! I was aware that the M & G with Britney would be short and that I would not be able to tell her everything I wanted, so I decided to write her a letter that I would give to her assistant (letter below).
We had to gather at 4:30 pm in front of the AccorHotels Arena in Paris for the Ultimate Upgrade of the "Piece of Me Tour". They gave us gifts, we had a backstage tour before the doors were open to the audience, and we would meet Britney during the opening act of the show, Pitbull. Time went by, and I started feeling stressed. However, I met some friendly French fans who were in the Ultimate Upgrade too. We got to know each other and we laughed together, I felt relaxed. when the time of all to gather to be brought to the room of the photoshoot where Britney was waiting for us arrive it was another story. I got in front of the room where Britney was waiting for us, while Pitbull sang "International Love" (yeah it's cliche but I love this song), stress took a hold of me. The other fans noticed that I was not saying anything anymore and I had tears in my eyes because I was finally about to fulfill my dream in the next few minutes, after so much expectation, stress, efforts, sacrifices, the year 2018 was dedicated to this very moment.
So we were told upfront "If you want to touch Britney for the photo, you should ask her permission beforehand", then 5 minutes before the M & G a security guy told us "No physical contact with the artist whatsoever" Two days before, a Spanish fan at the London M & G had created a whole drama, Britney had shouted, saying something like "Don't touch me !!", I had followed the story from a distance. That was bad omen ... I tried to pick myself up when the first fans started coming back one by one in the room to meet Britney and there, the stress rose and it was unbelievable: the scene looked like a slaughterhouse. Fans only got to stay for 5 or 10 seconds and come out of the room with a weird face! No time to back off, I had already prepared my speech in English, I wanted to make her happy, to make her laugh, and my ULTIMATE goal was to be chosen as the "Freakshow Guy" (she makes a fan come on stage, put them on a leash and dance with them). I am about the 10th fan who gets to meet her. I arrived in front of Britney Spears, THE MOMENT I HAD BEEN WAITING FOR, she didn't even look at me, she was talking to the photographer! I was there, like an idiot, waiting for Britney to finish chatting. She clearly seemed bored and upset. When she finally looked at me, I told her, "Hi Britney, Welcome to Paris, we missed you so much here!" To be honest with you, I do not even remember if she answered me back with a thank you or something, but she gave me a fake robotic smile, then we had the photo taken. Since I was not allowed to touch her, I awkwardly leaned towards her for the photo. She had her hair tied, too much makeup and a disgusting lipstick. I tried my best to look good on the picture! As soon as the photographer's flash was activated, it was over, I could not tell her that I was happy to meet her, that I had lost 30 pounds because I did not want her to find me ugly. I put myself in front of her, turning my back to the photographer, and asked her "Britney, do you have your guy for" Freakshow "? This is my dream to do it! and there, I found myself in front ... of a MAD person! Britney did not look at me, turned her head right, left, right, left, and said "Thank You, Thank You, Thank You" like she was singing by herself, without even glancing at me for a single moment. It was like "Leave me alone you're bothering me, get out of here". So disrespectful! And then the assistant told me that I had to get out to make room for the next fan.
I get out of here and join the other fans, I'm totally disappointed, shocked, sad, we had to wait until everyone else took the picture, that Britney checks that the the pictures are good for her, then we were told " You can go to your seat to see the concert ". And there, I walked in to join my BFF waiting at our seats and I started, 4 minutes after that moment, to realize all the disappointed hopes and I started to cry with sadness, of disappointment, RAGE, towards a totally disrespectful artist towards her fans, impolite, and downright ... CRAZY! What should have been the most beautiful moment of my life was actually a joke, a scam, with a clearly disturbed woman. I had dreamt that moment. It was actually a nightmare.
I finally joined my BFF who made me big signs who wanted to know everything and he found me with tears in my eyes, frowned face, and understood that it had clearly gone wrong. I did not even want to see the show to tell you the truth. The concert began 25 minutes later. I danced and enjoyed the begining of the show. Then after 4 or 5 songs, she sang "Piece of Me" (clearly she says "You want my picture" and it's one of my favorite songs) and there, impossible to hold me back, I burst into tears, in front of the woman who was supposed to be my idol, MY Star that I had followed for 20 years, that I supported tooth and nail despite people criticizing her, and who brought me so much joy. I thought back to that horrible minute with her and that my idol made me CRY! This is SERIOUS STUFF! It was very, very hard. My BFF hugged me, even though I do not like hugs. The worst case scenario that I could think of happened . On stage, I realized that everything is FAKE.
We know that Britney Spears is bipolar, that she has good and bad days, she's human. FYI, the Meet & Greet with Britney Spears is 556 €, not included the concert ticket ! Without us, his fans, the Britney Army, Britney is NOTHING. We buy her CDs, we pay concert tickets and Meet & Greet at more than 550 € to be treated like a piece of shit without even a glance. What's the point ? She is rich enough, if she does not like meeting fans, it's OK. She could just record albums and do concerts. I know that I am not the only one who had a bad M&G experience that night in Paris.
I can tell you that I am still in shock the day after meeting her. My heart is clearly broken forever. I have tickets for the 2nd show tonight but I do not even want to go. A person so ill-bred, disrespectful, and CRAZY no longer deserves my attention.
To be honest, I'm almost ashamed of the letter I wrote to her, because it's clearly not the moment I was hoping for. It's going to be hard because she was a huge part of my life. I feel like I've been cheated for 20 years and woke up in another dimension. I am writing this article and I still have tears of sadness in my eyes but I am clearly no longer a Britney Fan. It's over.